Preamble:
We the students of Chabot College organize the following association to better our awarness of the career we have chosen. We choose to improve the knowledge of the children in our communities. We choose to shape the minds of our future leaders to promote individualism and free thinking. We choose to teach.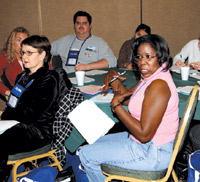 Chapter President Hardwick in workshop session at the Good Teaching Conference in San Francisco



Education system is in need of teachers. We are here, as the local chapter, to form into place qualified and well prepared educators. We are here to serve the community, we are here to work with the future, we are here! Join the Chabot Chapter of the Student California Teachers Association, the link to the better tomorrow...today.